Theodore Waddell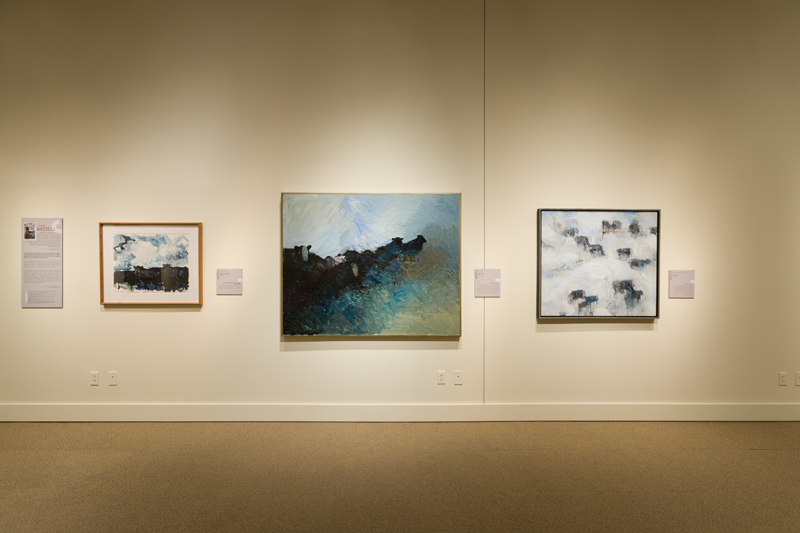 born 1941
"My earliest memory of my dad was smelling paint on his clothes… when he came home he had paint on his clothes, shoes, everywhere. I have always loved the smell of oil paint. Still do. There's a magic that is unsurpassed by any other medium or activity. The notion of loading a brush with a big dollop of paint is about as good as it gets. The sensation of developing a line or a shape with this material is wonderful."

—"Into the Horizon" by Ben Mitchell
Theodore Waddell: Into the Horizon Paintings and Sculpture, 1960–2000
Yellowstone Art Museum, Billings, Montana
University of Washington Press, 2001
As a child Theodore Waddell, who would become a master Montana painter, watched in fascination as his father, Teddy, relaxed with paint-by-numbers after a day of painting boxcars for the Northern Pacific Railroad.
While teaching on the art faculty of the University of Montana, Waddell specialized in minimalist painted and stainless steel sculpture, coming of age as an artist just as Montana's cultural community began to expand beyond the narrative visual heritage of Charles M. Russell and Frederic Remington.
In 1976, Waddell left teaching and the mountainous Missoula area to ranch on the plains west of Molt, Montana. There he abandoned sculpture for the unique paintings that would become his hallmark. "On the prairies where you can see for 150 miles in any direction, sculpture made no sense to me. I couldn't afford to make sculpture on the scale necessary [for it] to make sense, so I went back to drawing and painting—drawing first—and then, after feeling the need for a scale change, painting our black cows."
*"Into the Horizon" by Ben Mitchell
Theodore Waddell: Into the Horizon Paintings and Sculpture, 1960–2000
Yellowstone Art Museum, Billings, Montana
University of Washington Press, 2001
Taught with Rudy Autio at the University of Montana from 1968–1976
More than 90 solo exhibitions (that is correct, 90!)
Major Retrospective, Theodore Waddell: A Retrospective 1960–2000, at the Yellowstone Art Museum, 2000
Cash Award, Spokane Annual at the Cheney Cowles Museum, 1970
Sculpture Award, Purchase Prize, Spokane Annual at the Cheney Cowles Museum, 1971
Illustrated a children's book about his Bernese Mountain dogs, Tucker Gets Tuckered, 2006
Solo exhibit at the Cheney Cowles Memorial Museum, Theodore Waddell: Recent Paintings and Drawings, 1985. The painting Angus
Drawing #129 was purchased out of this exhibit.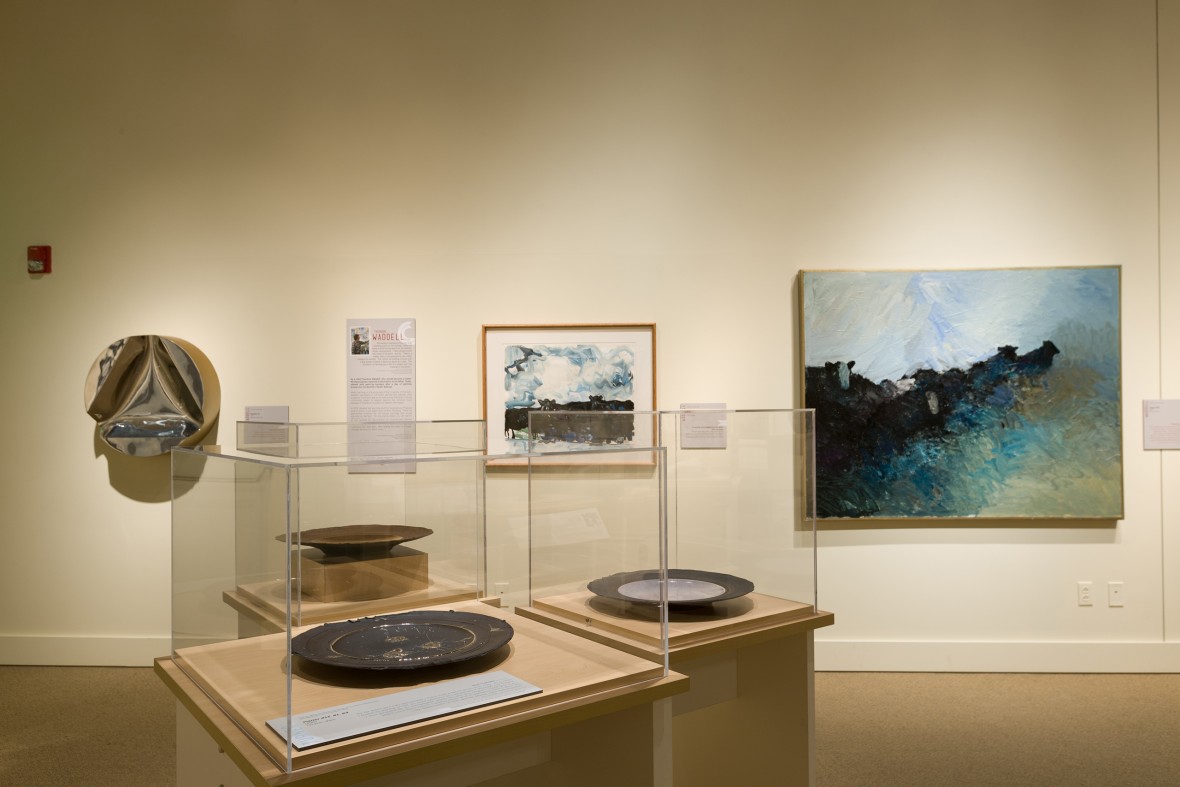 Angus #46
"I'm interested in the light and the landscape, and the animals. The animals are the most important thing. There's an intensity that they bring to the landscape that without them is not there. Most of my life has been around cattle and horses and so those things are the things that really resonate with me."

—"Ted Waddell: A History of Modernist Marks." Western Art Collector. Issue 3: November 2007
1982
oil on canvas
Gift of Ray and Kate Hart, 1996
Accession Number 3805.1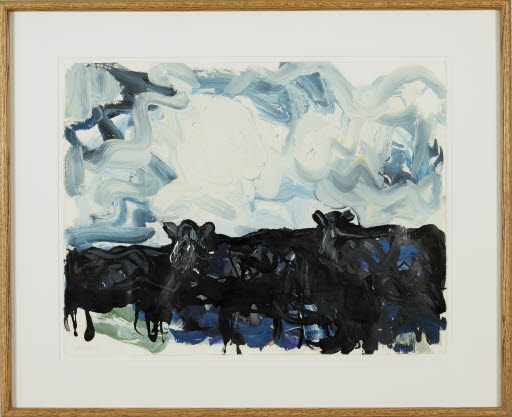 Angus Drawing #129
A rancher who makes art or an artist who ranches?
"In the early days the cows paid for my painting, now the paintings pay for my cows."

—"On Home Ground: Montana Master Theodore Waddell embraces the contradictions of contemporary western art…" by Sam Curtis. Montana Quarterly Vol. 3, No. 3, 2007
1984
oil on paper
Museum purchase, 1985
Accession Number 3069.1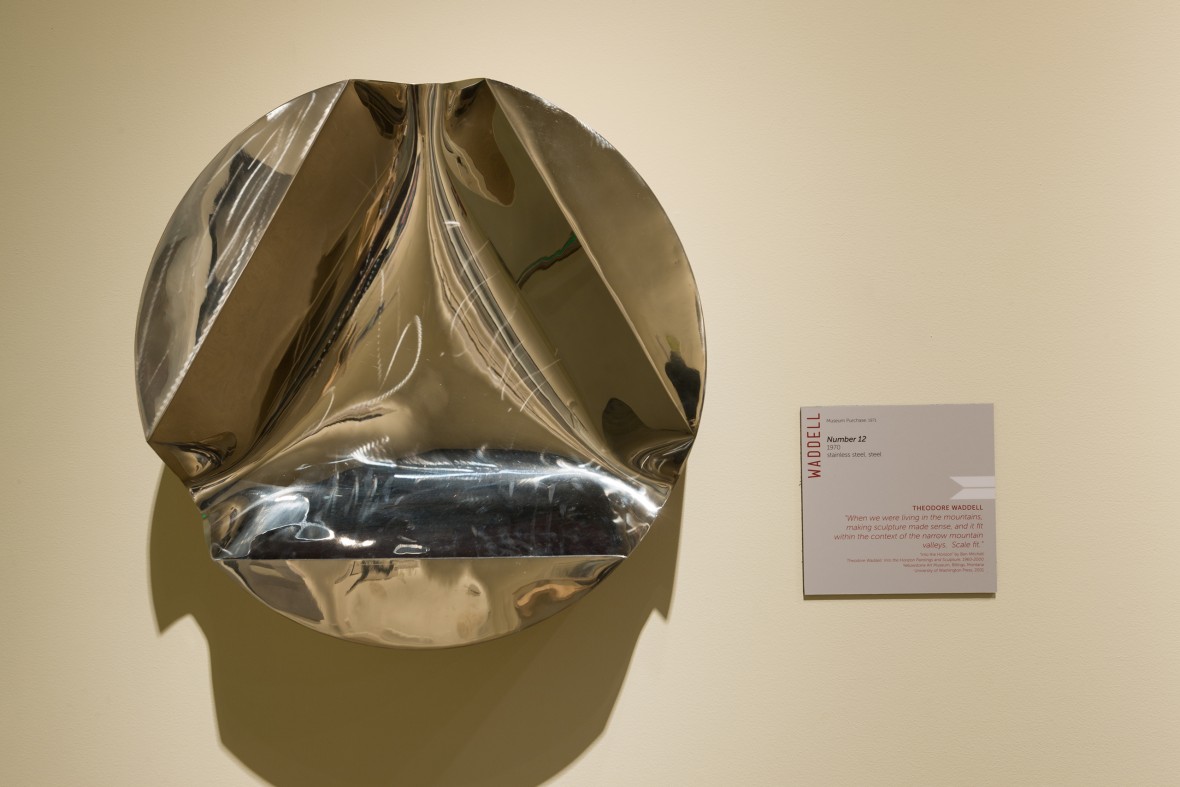 Number 12
"When we were living in the mountains, making sculpture made sense, and it fit within the context of the narrow mountain valleys. Scale fit."

—"Into the Horizon" by Ben Mitchell
Theodore Waddell: Into the Horizon Paintings and Sculpture, 1960–2000
Yellowstone Art Museum, Billings, Montana
University of Washington Press, 2001
1970
stainless steel, steel
Museum Purchase, 1971
Accession Number 2635.1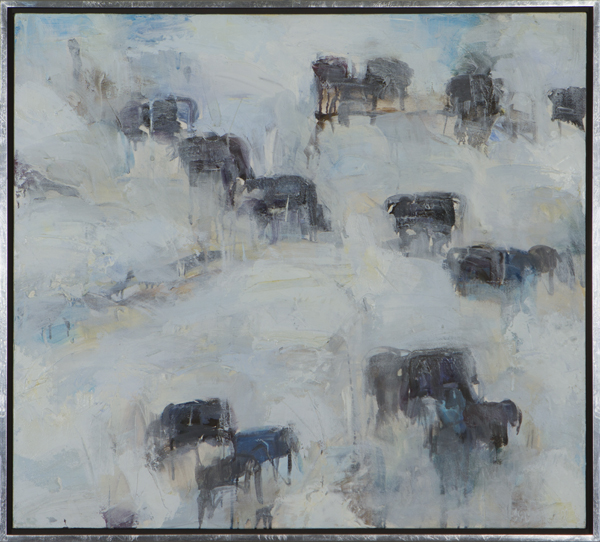 Snow Angus
"… It is usually the winter months that allow time for quiet considerations, and ample time to absorb them and paint what is in the mind's eye of memories. Contrasts are greater then and so are similarities, those contradictions that make painters, painters."

"The Challenge of Seeing" by Terry Melton
Theodore Waddell: Into the Horizon Paintings and Sculpture, 1960–2000
Yellowstone Art Museum, Billings, Montana
University of Washington Press, 2001
1992
oil on canvas
Gift of Safeco Insurance, a member of the Liberty Mutual Group, and Washington Art Consortium, 2010
Accession Number 4234.39