Rudy Autio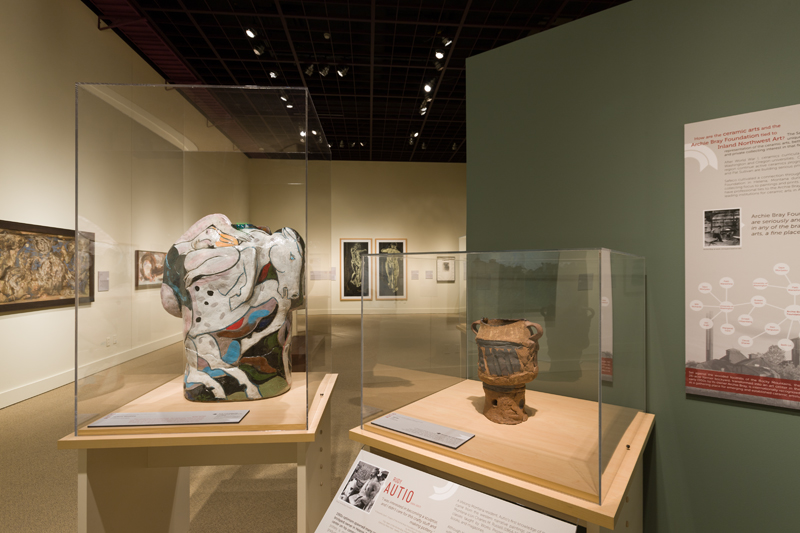 1926-2007
"I was interested in becoming a sculptor, and I didn't care for this crafty stuff and making pottery."

"'A Beautiful Spirit': Origins of the Archie Bray Foundation for the Ceramic Arts" by Rick Newby and Chere Jiusto
Fifty Years of the Archie Bray Influence: A Ceramic Continuum
Edited by Peter Held. Seattle: University of Washington Press, 2001
1950s optimism spawned many creative enterprises. For Archie Bray, a brickyard owner in Helena, Montana, the dream was to establish an art center on his company property. Starting a pottery—a workshop where pottery is made—was the first step, and Washington State University graduate student Rudy Autio took a summer job to help Bray build it.
A lifelong Montana resident, Autio's first knowledge of the art world came from the western narrative paintings of family friend and Montana icon Charles M. Russell (1864-1926), after-school drawing classes taught by Works Progress Administration artists, picture books, and magazines.
Although his ambition was to become a sculptor, the summer job with Archie Bray bound Autio to the clay medium and launched one of the most significant and inspirational ceramic careers of the 20th century. Today, the Archie Bray Foundation is arguably the most elite ceramics institution in America.
Founding Resident Artist of the Archie Bray Foundation, 1952
Founding Director of the Archie Bray Foundation, 1951–1957
Professor of Ceramics, University of Montana, Missoula, 1957–1984
Tiffany Award in Crafts, 1963
American Ceramic Society Art Award, 1978
National Endowment grant, 1980. Enabled work and lecture at the Arabia Porcelain Factory and the Applied Arts University in Helsinki, Finland.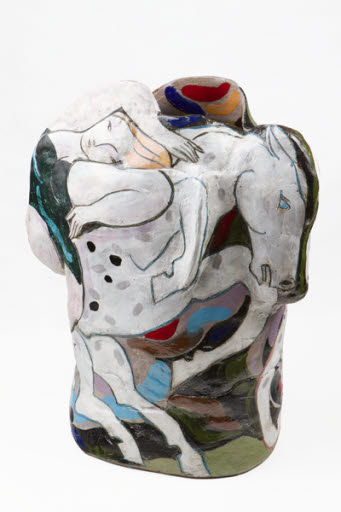 Hellgate Appaloosa
"You could see it as a painting. But now you take both ends, you fold it together and you see it in the round… One of these ears that sticks out on my pot could be a head or it could be an elbow, or a leg, or a horse's head or something like that."

—Oral history interview with Rudy Autio, 1983-84. Archives of American Art, Smithsonian Institution
Rudy Autio began his artistic career aiming to be a sculptor. What evidence of his ambition does your eye find in his composition Hellgate Apaloosa?
1984
stoneware and glaze
Gift of Safeco Insurance, a member of the Liberty Mutual Group, and Washington Art Consortium, 2010
Accession Number 4234.2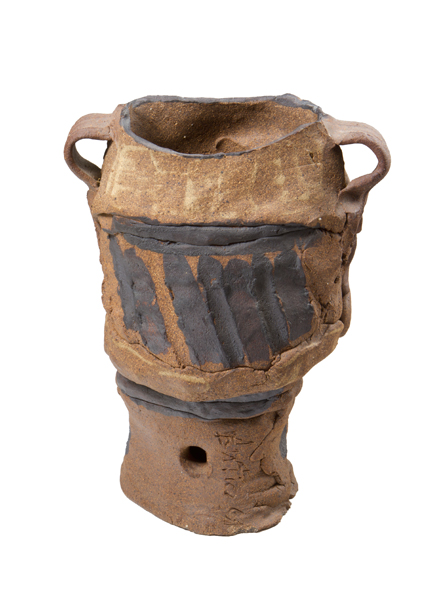 Vessel 1961
Remote but not isolated
From Missoula where he taught at the University of Montana for 28 years, Autio engaged with the national and international clay community participating in 150 workshops around the globe. He made Vessel 1961 during a workshop at Fort George Wright College, Spokane, where he was a guest artist.
1961
stoneware
Gift of The Art Spirit Gallery and Museum Purchase, Works from the Heart Acquisition Fund, 2005
Accession Number 4113.1