Kay O'Rourke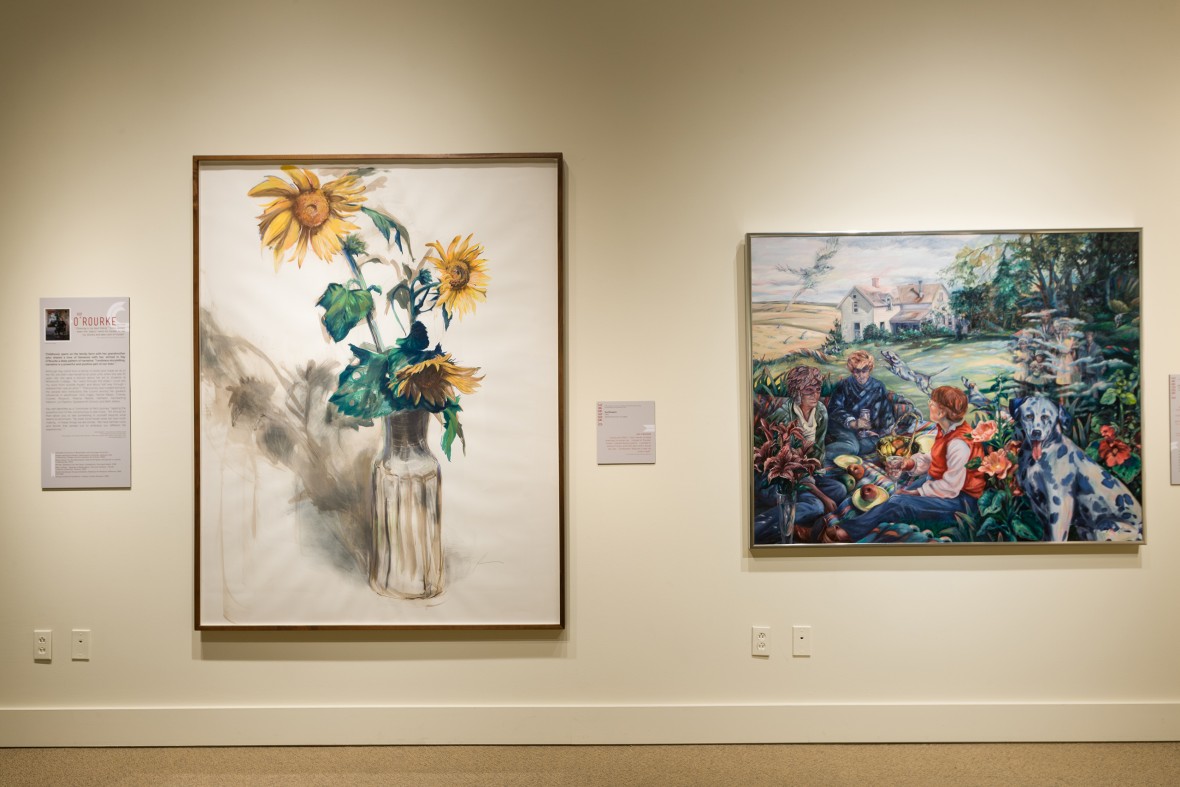 born 1943
"Drawing is my best friend. It has always been the 'place' I went for myself, to tell my stories and take care of myself."

—MAC Interview with Kay O'Rourke, 2012
Childhood, spent on the family farm with her grandmother who shared a love of literature with her, etched in Kay O'Rourke a deep pattern of narrative: "I embrace storytelling; narrative is a powerful and positive part of our lives."1
Although Kay came from a family of artists and made art all of her life, she didn't see herself as an artist until, when she was 35 years old, she gave a lecture about her art to students at Whitworth College. "As I went through the slides I could see my work from outside myself, and about half way through I realized that I was an artist."2 That journey was nudged along by the people and institutions she counts among her greatest influences in adulthood: Dick Ingals, Harold Balazs, Cheney Cowles Museum, Maxine Martell, Kathleen Gemberling Adkison, Liz Plastino, Spokane Art School, and Beth Sellars.
Kay self-identifies as a "chronicler of life's journey," tapping the powerful tool of the unconscious to see more: "Art should do that—allow you to see something in yourself beyond what seems to be known. My sister Gina Freuen does her own myth making… in these things we are similar. We have familiar roots and bonds that spread out to embrace our different life experiences."3
Artist Statement

MAC Interview with Kay O'Rourke, 2012
Attended University of Washington and Gonzaga University
Taught painting at Eastern Washington University, Spokane Falls Community College, and the Spokane Art School, 1980s
Work chosen for the Washington State 1% Program and placed in schools in Wenatchee, 1976
Winner, Spokane City Hall Open Competition, Purchase Award, 1982
Best in Show, "Women in Washington: The First Century," Pacific Lutheran University, Tacoma, 1989
Pacific Northwest Annual Exhibition, Bellevue Art Museum, Bellevue, 1990 and 1992
Annual Juried Art Exhibition, Cheney Cowles Museum, 1990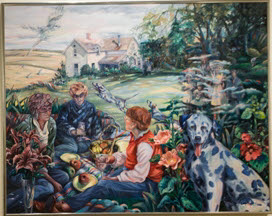 In the Membership of My Days
For an event with the Spokane Symphony artists were asked to listen to Pictures at an Exhibition* and create a painting that reflected what they felt. "This painting reflects the rhythm of the music and a day I spent with my aunt Eileen and two friends on my grandparents farm...I always use images I relate to…During the 1980s my paintings were dense with imagery, almost like Russian novels."
(MAC Interview with Kay O'Rourke, 2012)
*Modest Mussorgsky (1833-1887), pronounced Muss-org-sky, was a Russian romantic composer perhaps best known for Pictures at an Exhibition, a piano suite in ten movements.
Frederick Weisman believed in the cultural value of art and understood the importance of both the individual artist and the creative process. An arts philanthropist, he helped the Museum acquire several paintings during the 1980s and 1990s including this one. Learn more about him and his foundation at www.weismanfoundation.org.
1987
oil on canvas
Gift of Frederick Weisman Company, 1989
Accession Number 3410.2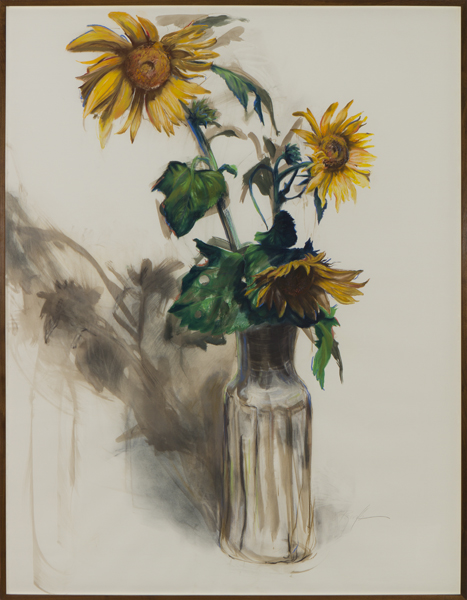 Sunflowers
During the 1990s,"I did a series of large drawings to loosen up. Instead of 'Russian novels' I started doing 'poems.' I worked in series of three, and with each one I would 'say' less. Sunflowers features a vase my sister made."

—MAC Interview with Kay O'Rourke, 2012
1995
pastel and acrylic on paper
Gift of Safeco Insurance, a member of the Liberty Mutual Group, and Washington Art Consortium, 2010
Accession Number - 4234.23