Museum Youth Camps
The MAC's camps are based on the philosophy that young people benefit from hands-on learning experiences that combine an appreciation for the arts and science with respect for and understanding of the world around them. It is the mission of our dedicated and experienced staff to promote creative talent, cultivate a sense of wonder, and foster an enthusiasm for exploration of the natural world.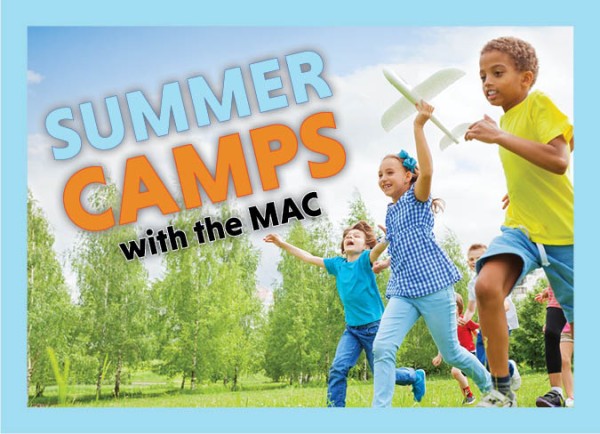 Summer Day Camps
Not a series. Register for one or all. Exhibits included! Appropriate for kids entering grades 2 – 6.
Get Messy! Art Camp
Wednesday – Friday, July 26, 27, and 28, 2023 
9 am-2 pm 
$45 members , $50 non-members
Get messy with hands-on art making fun! Discover your creative side without any worry about making a mess! Squish, splatter, and stomp your way into art as you explore printing, painting, and clay molding.  
Video Game Inspired Pixel Art 
Wednesday, August 2, 2023 
9 am-2 pm   
$45 members, $50 non-members 
Try your hand at creating your very own 2D & 3D pixel art creations inspired by some of your favorite classic and current kid-friendly video games!  Solve STEAM challenges, make a pixel art self-portrait, and use a variety of building materials to bring your designs to life! 
Register for Pixel Art
Rube Goldberg's Marvelous Machines 
Thursday, August 3, 2023 
9 am-2 pm 
$45 members, $50 non-member 
Ever wonder what you can do with odds and ends laying around your house? Design and build a Rube Goldberg Machine, of course! Learn more about the man behind the marvelous machines, build one of your own, step back, and watch the chain reaction unfold. 
Register for Rube Goldberg's Machines
Unplugged Coding 
Friday, August 4, 2023 
9 am-2 pm   
$45 members, $50 non-members 
Learn the basics of coding logic through hands-on STEAM challenges. Escape mazes, build cities, and play with robots.