Patty Warashina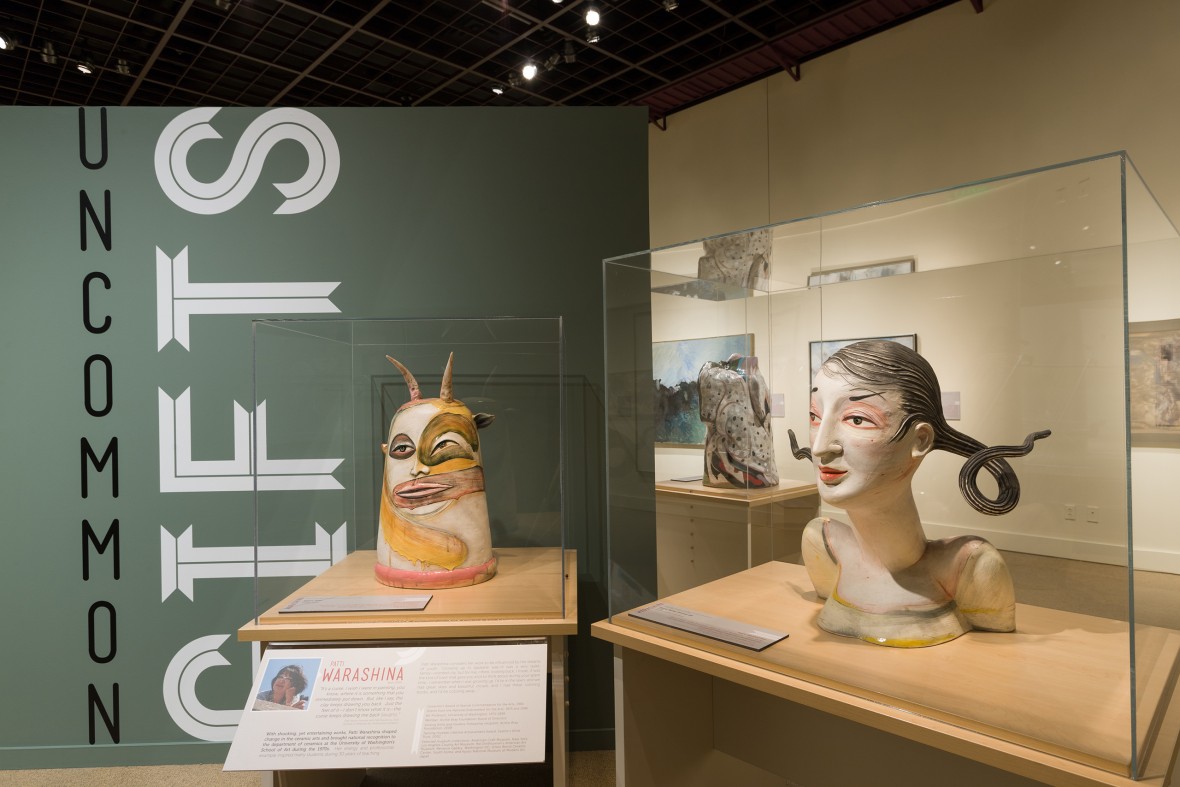 born 1940
"It's a curse. I wish I were in painting, you know, where it is something that you immediately put down. But, like I say, the clay keeps drawing you back. Just the feel of it—I don't know what it is—the curse keeps drawing me back [laughs]."

—Oral history interview with Patti Warashina, 2005. Archives of American Art, Smithsonian Institution.
With shocking, yet entertaining works, Patti Warashina shaped change in the ceramic arts and brought national recognition to the department of ceramics at the University of Washington's School of Art during the 1970s. Her energy and professional example inspired many students during 30 years of teaching.
Patti Warashina considers her work to be influenced by her dreams of youth: "Growing up in Spokane was—it was a very quiet, family—oriented city, but for me, I think, looking back, I mean, it was the kind of town that gave you a lot to think about during your spare time… I remember when I was growing up, I'd lie in the lawn, and we had great skies and beautiful clouds… and I had these coloring books, and I'd be coloring away..."
Governor's Award of Special Commendation for the Arts, 1980
Grants from the National Endowment for the Arts, 1975 and 1986
Art Professor, University of Washington, 1971–1996
Member, Archie Bray Foundation Board of Directors
Visiting Artist and Voulkos Fellowship recipient, Archie Bray Foundation, 2008
Twining Humber Lifetime Achievement Award, Seattle's Artist Trust, 2002
Selected museum collections: American Craft Museum, New York; Los Angeles County Art Museum; the Smithsonian's American Art Museum; Renwick Gallery, Washington DC; Ichon World Ceramic Center, South Korea; and Kyoto National Museum of Modern Art, Japan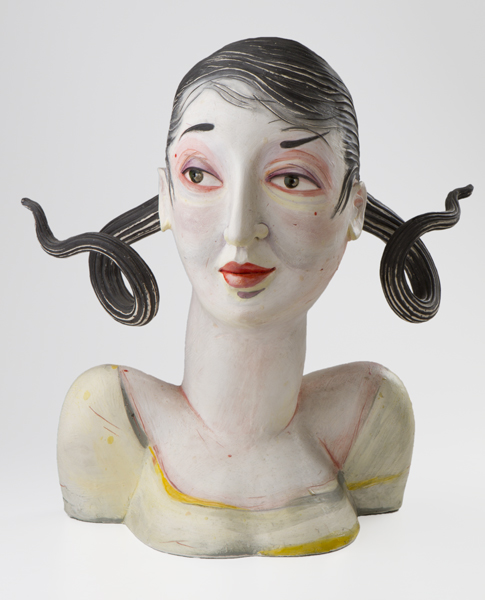 Rome Series Portrait #8
"As a child I collected dolls, dreams, and fantasies. I feel lucky that my work involves translating those collective observations from my psyche into a tangible form."

—50 Northwest Artists: A critical selection of painters and sculptors working in the Pacific Northwest by Bruce Guenther.San Fransicso: Chronicle Books, 1979.
2004
ceramic, glaze, underglaze
Gift of Safeco Insurance, a member of the Liberty Mutual Group, and Washington Art Consortium, 2010
Accession Number 4234.41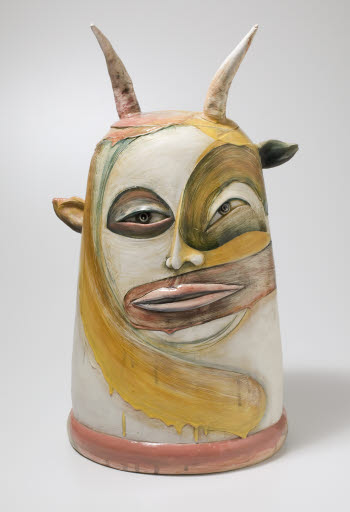 Yellow Satyr
"I like to push it to the edge so that you're not quite sure what I'm thinking. It's not quite right, there's something a little askew."

—"Art Review: Warashina works show women on the edge of… you decide" by Gayle Clemmens. Seattle Times, May 27, 2020.
1990
ceramic, glaze
Museum purchase, Works from the Heart Acquisition Fund, 2000
Accession Number 3950.1