Continuous Lines: Selections from the Joe Feddersen Collection
Sept 18, 2021-Feb 6, 2022
Joe Feddersen (Confederated Tribes of the Colville Reservation) is an artist working in print making, glass, and traditional materials, whose work is in the MAC's permanent collection and was the subject of a 2005 exhibition Land Mark. Based in Omak, WA, he spent a career teaching at The Evergreen State College in Olympia. He has been featured in numerous national exhibitions, including Continuum 12 Artists: Joe Feddersen, National Museum of the American Indian, Smithsonian Institution at the George Gustav Heye Center, New York, NY, curated by Truman Lowe; and was the subject of a major retrospective exhibition and monograph, Vital Signs, organized in conjunction with Froelick Gallery and the Hallie Ford Museum of Art at Willamette University in Salem, OR.
This exhibition features 56 works from Feddersen's personal collection of contemporary American Indian art, reflecting his friendships and artistic interests over the past few decades and including a wide variety of genres - sculpture, painting, photography, and prints.
Header artwork: Rick Bartow, Untitled. Loan Courtesy of Joe Feddersen.

Selected Artists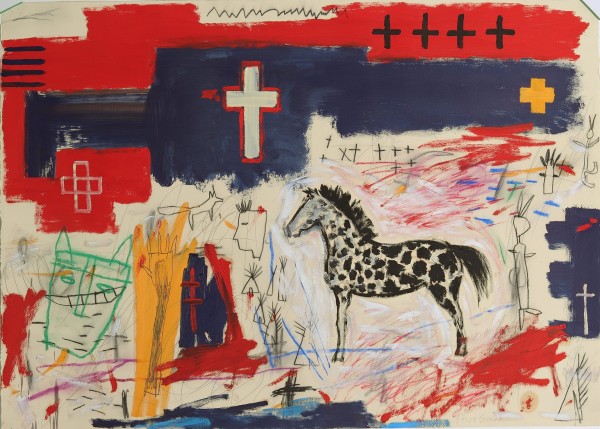 Juane Quick-to-See Smith, Untitled, oil on paper. Loan Courtesy of Joe Feddersen.
Jaune Quick-to-See Smith (Confederated Salish and Kootenai Tribes, b. 1940) has been creating complex abstract paintings and prints since the 1970s. She has received numerous awards, including four honorary doctorates. Smith's work is held in the collections of the Museum of Modern Art in Ecuador, the Museum of Mankind in Austria, the Walker Art Center, The Smithsonian American Art Museum, The Museum of Modern Art, the Brookyn Museum, The Metropolitan Museum of Art, and the Whitney Museum of American Art.
Rick Bartow (Mad River Band Wiyot, 1946-2016) created sculpture, painting, drawing, and prints over the course of his nearly 40-year career. His art was the subject of over 100 solo exhibitions at museums and galleries. His retrospective Things You Know But Cannot Explain, organized by the Jordan Schnitzer Museum of Art at the University of Oregon, was accompanied by a fully illustrated monograph. Bartow received his B.A. from Oregon State College.