Holiday Artist Studio Tour 2021
December 4, 5 and 6, 2020
Friday, Saturday and Sunday
Visit local artists in their studios—virtually. See where they create and how they work. Art available for sale online.
Tickets: $10
Visit anytime or multiple times Friday–Sunday.

Support provided by:

Hazen Audel
Hazen Audel is Spokane born and raised. His artistic nature and skills are in his bloodline from a father who is an illustrator and Hall of Fame Hot Rod Builder. He was taught to paint, draw, sculpt and create at an early age and considers himself to have been a professional artist for over thirty years, beginning as a technical pen and ink, pencil, and painting textbook illustrator. He then started Hazen Audel Artworks LLC, which primarily focuses on large scale architectural and public metal sculpture.
Hazen is also an educator with over ten years as a high school biology and art teacher. Most recently Hazen has reached an international audience with his National Geographic television program "Primal Survivor" where he showcases and puts into practice traditional building and crafts as well as undertaking exhaustive cultural adventures while living with remote tribes and traditional people all over the world.
When he is back in Spokane, he invests much of his time building his art studio and multiple work spaces located in the Palouse country side where he can continue to build larger sculptures and also be able to teach art and skills classes such as ceramics, drawing and painting, silversmithing and jewelry, and metal and woodworking.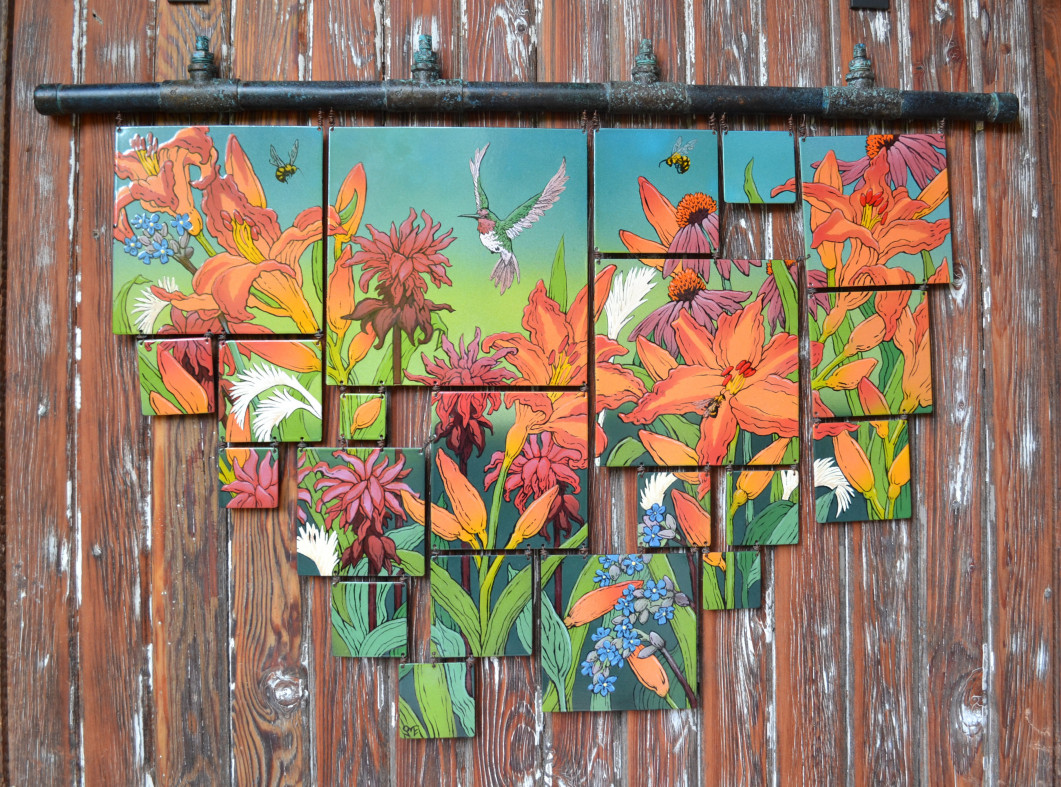 Sheila Evans
Sheila Evans has lived in the Pacific Northwest for most of her life and worked as a professional artist for the past 25 years. After earning a bachelor's degree in fine art from Gonzaga University in 1988 and a ten-year stint as a graphic designer, Evans began her fine art career working primarily in pastel. She became internationally known through art publications, eventually earning a place in the permanent collection of a French pastel museum. After several years of exclusive work in pastel, she began painting in oil, expanding her subject matter to include still life and animals in addition to her original botanicals and landscapes.
In 2016, Sheila participated in her first show as an enamelist at The Art Spirit Gallery. The gallery continues to represent her large-scale enamel work, which depicts themes of animals and nature. Her latest series, "Disappearing," explores the recent rollbacks of environmental protections, and asks, what do we lose when we fail to protect our world?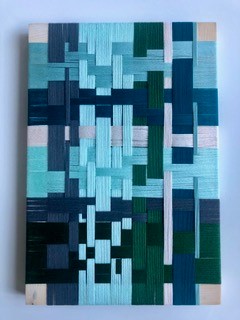 Kimber Follevaag
"I am often asked why do I create? My answer is always the same, I am not sure why I make art, it is not easy. I feel very vulnerable doing it and yet I can hardly wait to start my next project. My drive to experience the creative process started early—I was a ballerina for 17 years and once that outlet had run its course I redirected my energy to fiber art. My current work utilizes yarn wrapped and woven onto old silk screen frames. I love the layers and intricate patterns that appear as I am weaving. It is the mystery of creation that keeps moving me forward."
Kimber's Work has been shown at: Jacklin Arts Center Fiber Arts Show 2013; Terrain Event 2013-2019; Emerge Event 2014-0215; Studio l07; 2014 Blackwell Gallery; 2015 Bazaar; 2015 Emerge Fiber Arts Show; 2016 Mayor's Awards in the Arts; 2016 Rally Spokane; 2017 Emerge Gallery; 2017 Terrain Gallery; and 2018 Alto in Portland Oregon.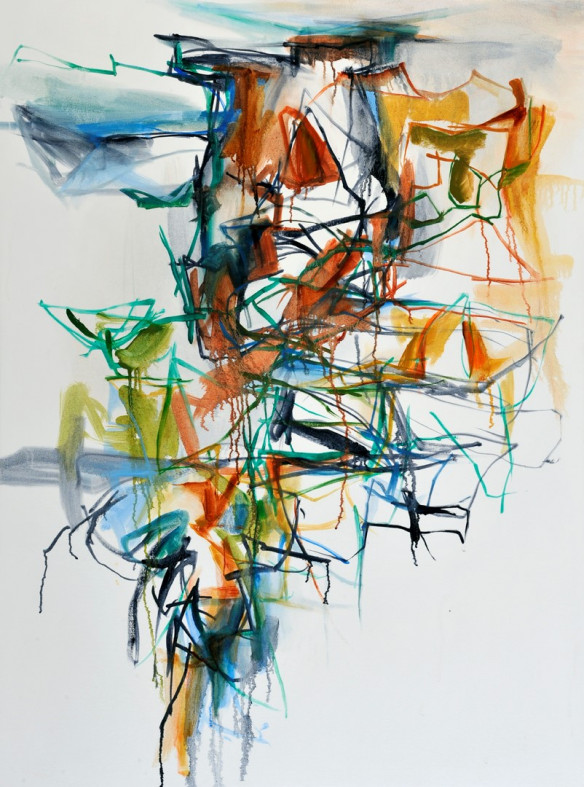 Melissa Lang
Melissa Lang received a BFA degree in painting at Eastern Washington University and her MFA in painting and sculpture from the University of New Orleans. She works as a full-time professional artist in addition to a teaching adjunct and serving as a Visiting Artist/Lecturer/Reviewer at local colleges and universities. She exhibits her paintings and drawings locally and nationally, and has completed several temporary wall drawings and murals at the Jundt Art Museum at Gonzaga University, the Northwest Museum of Arts and Culture, and at the Port Angeles Fine Art Center. Her work has been represented at the Gail Severn Gallery in Sun Valley, Idaho as well as the Lorinda Knight Gallery in Spokane and was presented in a two person show at Gonzaga's Jundt Museum in 2011.
Lang has received several awards for her work, including a full Graduate School Fellowship, a Gap Grant and a Fellowship from Washington's Artist Trust Organization, a Vermont Studio Center Tuition Award and an artist residency at Jentel in Wyoming. Her work is collected throughout the United States, and can currently be seen at the Northwest Museum of Arts and Culture Art Source Gallery.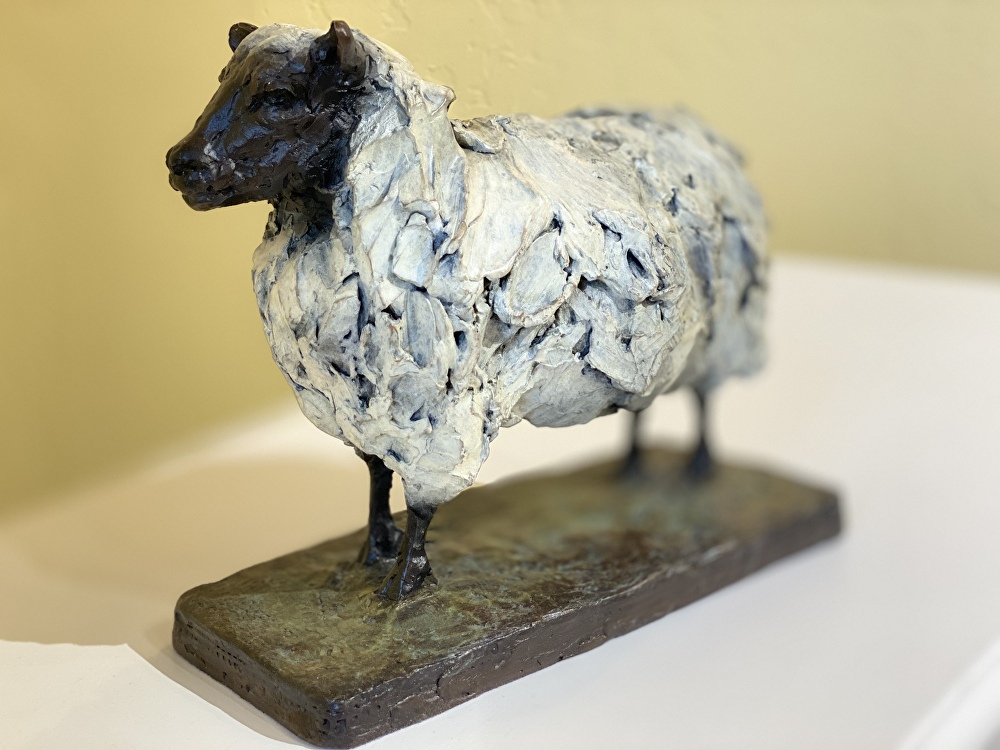 Cheryl Metcalf
Always it was Art that fascinated me. During my school years, I created with crayons, pencils, paint and brushes. Nevertheless, images of sculpture were my real obsession. I spent hours in the library admiring works of DaVinci, Michelangelo, Rodin, and Degas. Years later a gift of sculpture classes to my daughter ricocheted and landed back in my lap. "Sculpture's your thing, not mine, Mom!"
They say, the truth will set you free, but first it will make you angry. And so it was for me. Frustrated with my daughter's refusal, I took the first gift sculpture session with Terry Lee myself. I found what I didn't know I was looking for. Pure joy. When I have a model in front of me I lose all sense of time. Nothing else matters but creating Art.

Gay Waldman
Gay Waldman has worked professionally since 1985 and participates in art festivals, juried shows, and galleries throughout the Northwest. Gay's photographs are the starting point for her artwork and then her intuitively enhanced images become her artistic expressions. Her garden as well as travels provide a plethora of images including flora, landscape, seasons, and a frequent introduction of geometric shapes. Her work relies on a multitude of photographs rich with color, translucent qualities, layering, and overlapping. She presents her images on traditional photographic papers or dye-infused aluminum and she occasionally bends curves into the aluminum prints to add a sculptural effect.
Gay's studio also provides digital editing, professional custom picture framing, design, on-site consultation, artwork on fabric, and permanent public art installation. Gay's photo-art reaches beyond the impact of traditional photography. In a significant way, her work expands how the viewer perceives, considers, and interprets photographic media as art.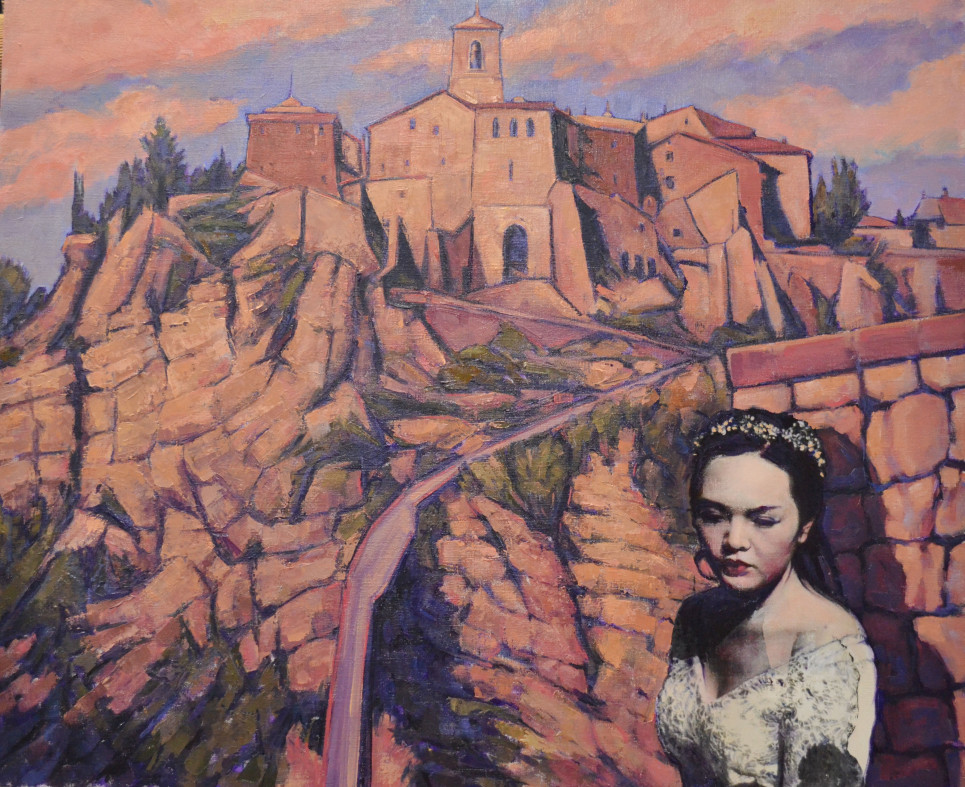 Gordon Wilson
Gordon Wilson is professor of art at Whitworth University where he teaches painting, drawing and figure drawing. Wilson exhibits in juried and invitational local, regional and national exhibits. For more than twenty years, plein air paintings have dominated the work. However, animals, people, and combinations of both have also populated canvases and drawings. In recent years, Wilson's work has been shown locally at the Art Spirit Gallery and the Marmot Art Space in Kendall Yards.
Imagery for paintings comes from personal experience. Summers are often spent painting on location primarily in Europe. The painting experience is an attempt to understand the uniqueness of place and the relationship of inhabitants to that specific environment. The paintings are an expression of personal response to these environments, including interaction with inhabitants observed briefly or in extended relationship, often many years. The interplay of history is often present—a scene may include Medieval structures near contemporary buildings and people.
Due to the pandemic, recent work has been explored in the studio. This has led to combining images and people from different locations. The intent of the paintings is essentially the same as previous work but the combined images more obviously encourage content/narrative.